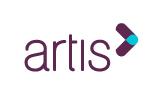 Cloud Migration Services
Features
Service Type:

Consulting, Professional Service

Business Need:

Web Design and Development

,

Cloud Computing - General

,

Cloud Migration

Works With:

Microsoft .NET Framework, Microsoft Dynamics GP 2013, SQL Server 2012 Business Intelligence Edition, SQL Server 2012 Enterprise Edition, Windows Active...

(more)

Industry Focus:

Agriculture, Forestry & Fishing, Education, General - Applicable to All
Description
• IT discovery Following a well-defined interview process, we review your existing IT assets and identify those elements that are suitable for migration to the cloud. Depending on the engagement, Artis may also help you pricing estimates to make the case for cloud migration.
• Migration planning: We work with your IT staff to plan the migration of those elements. This includes connecting in-house components to the cloud through secure gateways, scheduling the migration, establishing monitoring tools, and selecting the optimal cloud resources for your business.
• Migration execution Working alongside your IT teams, we migrate the resources into on-demand platforms. This may be as simple as moving virtual machines into infrastructure clouds, or as advanced as migrating legacy data into large, distributed cloud storage.
• Monitoring With the cloud systems in place, we configure monitoring tools and establish baselines that will verify the improved performance and availability, show you how your cloud-based resources are being used, and provide detailed activity reports to verify billing.
• Optimising existing applications to get more throughput with less resources and save more money in long run.
• Refactoring existing application to be could friendly and scalable and maintainable
• Periodic evaluation: As new cloud offerings emerge and your organization finds new ways to use cloud computing, we periodically revisit the cloud migration service plan and determine whether there are new opportunities to optimize your IT.

Support and Documentation
Cloud Migration Services has not been reviewed by any customers.
The views and opinions submitted and expressed here are not those of Microsoft.
Applications from this company
Other Professional Services Offered by this Company