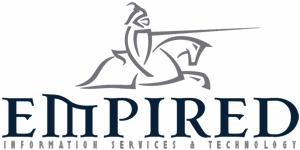 Empired Messaging Migration Services
Service Type:

Consulting, Professional Service, Hardware, Training

Business Need:

Internet Security

,

Virus and Spyware Detection and Removal

,

Spam Filters

,

Employee Internet Use and Monitoring

,

Firewall

,

Identity Management, Privacy

,

Server Management and Installation

,

Network Installation and Monitoring

,

Wireless Networks

,

Data Management and Migration

,

Content Management

,

Help Desk Services

,

Content Management

,

Internet Security

,

E-mail Hosting and Management

,

Messaging

,

Project Management

Works With:

Microsoft Office Outlook 2007, Windows Server 2003, Windows Server 2008

Industry Focus:

Architecture, Engineering & Construction, Government, Healthcare, Professional Services, Transportation, Utilities
Empired has been specialising in messaging related consulting services and migrations for over 15 years.  We work with organisations reviewing their current messaging infrastructure providing assistance in the direction they should head in, the associated business case to assist in the transition and then planning, design and implementation services.The physical design and implementation is only part of the overall solution - consideration is given to change management including user training, leveraging the functionality of Exchange and Outlook, legal requirements around archiving / message store management etc.
Empired Messaging Migration Services has not been reviewed by any customers.
The views and opinions submitted and expressed here are not those of Microsoft.
Other Professional Services Offered by this Company