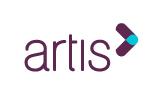 Mobile Forms




Mobile Forms provides a drag and drop methof of creating forms based applications for your fleet of mobile phones. It automates deployment and synchronisation of data with your server. Mobile Forms integrates form entered data with a photo taken on the hand
held camera and positioning data gathered from the mobile phone GPS unit.



With Artis Mobile Forms your Business Analysts can develop applications for the mobile phones used by your field staff including field technicians, sales staff, inspectors. In fact anybody with a mobile phone who collects data on your behalf.



Artis Mobile Forms is the secure and affordable data collection solution.




the challenge


How can you help your mobile workers spend less time on paperwork, and more time providing a great service? If they still use paper forms, it's simple: just switch to Artis Mobile Forms.





features

really simple drag-and-drop software for form design on the web, no programming required
quick and easy creation of up to 100 different forms, with no publishing costs
secure data entry, transmission and storage compatible with a selection of touch-screen mobile devices send forms directly to the PDAs of your mobile workforce, send data to populate forms out to your workforce from either the web or your computer systems
once mobile workers have completed their forms the data can be securely sent immediately to the central storage for upload at a later date
download CSV files and analyse data.


benefits

quick and easy to set up, customise and use peace of mind as data is entered, sent and stored securely and then accessed only by authorised staff
frees mobile workers so they can spend more billable time in the field improves data accuracy and increases business efficiency flexible solution which enables you to respond instantly to demands of the market or your business
frees up admin time lost entering data from paper forms onto your computer systems
less room for error, as information is input once, and there are no problems with transcription (unlike handwritten forms)
up-to-date and accurate information as everything is done in real time simple, straightforward and predictable pricing.









Mobile Forms has not been reviewed by any customers.
The views and opinions submitted and expressed here are not those of Microsoft.
Applications from this company
Other Professional Services Offered by this Company