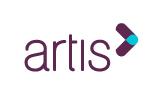 App Type:

On-Premises and/or Online Application

Business Need:

Data Analytics, Reporting, Business Intelligence (BI)

,

Enterprise Resource Planning (ERP)

,

Professional Services

Works With:

Microsoft .NET Framework, Microsoft SQL Server, Prior Versions, Windows Active Directory (AD), Windows Azure

Industry Focus:

General - Applicable to All, Government, Professional Services




Artis provides certified and highly capable architects to ensure your Microsoft IT environment is correctly designed to meet your business needs into the future. To succeed in business, where the world is more instrumented, intelligent, interconnected, and
the demands on your infrastructure are constantly growing, a smarter kind of infrastructure is needed. One that can help improve service, reduce cost and manage risk, while accelerating growth in your business. A dynamic infrastructure is the Artis blueprint
to achieving all these outcomes.




A dynamic infrastructure aligns business and IT assets to support the overall goals of the business while taking a smarter, new and more streamlined approach that:




- Integrates visibility, control, and automation across all business and IT assets


- Is highly optimized to do more with less

- Addresses the information challenge

- Manages and mitigates risks

- Utilises flexible delivery choices like clouds

- To leverage the advantages of a dynamic infrastructure—designed to be service-oriented and focused on supporting and enabling end users in a highly responsive way—businesses need to investigate their needs and create a plan of action




Artis, in conjunction with out partners, offers in-depth briefings, collaborative workshops and assessments, and testing centers, as well as many services, to help you integrate both the business and IT infrastructures while taking a smarter, more streamlined
approach to helping improve service, reduce cost, and manage risk.







Microsoft Dynamics Infrastructure has not been reviewed by any customers.
The views and opinions submitted and expressed here are not those of Microsoft.
Applications from this company
Other Professional Services Offered by this Company