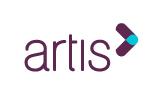 SQL Server - Database Consolidation
Artis has the database skills, experience and methodologies necessary to achieve database consolidation for your organisation.

Our skilled consultants have experience in the latest SQL Server technology including use of the new SQL Server 2008 features covering geo-spatial calculations. We're also familiar with older SQL Server versons and competitor databases. It is this range of skills that enable seamless migration from multiple workgroup servers to a single enterprise class database server environment. The same processes and tools are used for competitor migrations into the Microsoft SQL Server environment.

Our three phased approach provides a staged and balanced approach that reduces cost and achieves quick wins in a sustainable manner. The use of automated tools provides for the most efficient use of skilled consultants and your internal resources. And our emphasis on training and skills transfer ensures you are enabled for long term support of the integrated environment.
SQL Server - Database Consolidation has not been reviewed by any customers.
The views and opinions submitted and expressed here are not those of Microsoft.
Applications from this company
Other Professional Services Offered by this Company